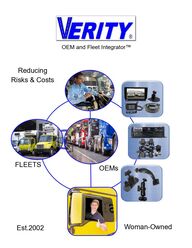 Return to flip book view
Verity Rear Vision Catalog
Page 1
Reducing Risks & Costs FLEETS OEMs Est.2002 Woman-Owned OEM and Fleet Integrator™
Page 2
Contents Verity .................................................................................................................... 3 Proven "S" Series – Commodity Priced ............................................................ 4 "S" Series Components ...................................................................................... 5 "J" Series ............................................................................................................. 6 NEW! MK07B – Buttonless monitor ................................................................... 8 "F" Series - Waterproof Monitor ......................................................................... 9 7" Mirror Monitor ............................................................................................... 10 4.3" Mirror Monitor ............................................................................................. 11 Garmin ................................................................................................................ 11 Reveal MDVRs ................................................................................................... 12 Semi-Trucks ....................................................................................................... 14 Rear Cameras .................................................................................................... 15 Specialty Cameras ............................................................................................ 16 Cables ................................................................................................................ 17 Mounts ............................................................................................................... 18 Camera Covers .................................................................................................. 18 Sensor Systems ................................................................................................ 19 Specialty Systems ............................................................................................. 20 Industrial Systems ............................................................................................ 20 Emergency Replacement Parts Program ........................................................ 21 Definition of Verity 1: the quality or state of being true or real 2: accordance with fact or reality 3: a fundamental truth, principle, belief, or statement 4: the quality or state of being truthful or honest Be Verity Safe! A+ Rating
Page 3
Verity® Professionally Custom Designed Systems Exceeding the Needs of OEMs & Level-1 Distributors, Emphasizing Production Needs & End-user Satisfaction Verity® has over 20 years of experience in this industry. We differentiate our company from all others by delivering: Products engineered for each OEM to meet and exceed their clients' specifications. Just-in-time deliveries to your manufacturing facilities. We have not missed a ship date in over 10 years, even during Covid. 99.98% of vehicles using Verity® are in service daily without a camera issue. When an issue does occur, most are handled within one day. Certification as a woman-owned corporation aiding in your government contracts. Materials and instructions for a consistent and smooth installation every time. Components that are at the highest level of quality available. Products offered to meet or exceed Federal regulations and are from ISO:9001 factories that are RoHS compliant. We invite you to peruse our product manuals and wiring diagrams on our website, www.veritysafe.com. Because we know the value of your installation team's time, we have made our contact information easy to find and look forward to the opportunity to assist you in finding the best products to meet your company's needs. We will be happy to take your call and answer any questions you might have about how we can serve you. Beth Ann Verity Managing Owner Bethannv@veritysafe.com 574-807-6005 Bill Verity Owner / Technology Billv@veritysafe.com 574-807-6004 ADDRESS 56600 Twin Branch Drive Mishawaka, IN 46545
Page 4
Verity's R&D team spent 1 ½ years designing, laboratory and in-field testing the "S" Series System with the latest high-tech, cost-effective materials and better production methods built for an 8-year life span. Durability: designed for box trucks to heavy equipment / 99.98 percent success rate over the past 11 years for Verity monitors and cameras. Support: 24/7 live tech support, located in Mishawaka Indiana, plus lifetime tech support. Reduces liability! Designed to meet OEM/Fleet demands with the highest quality. "S" Series mount options Three camera inputs, speaker, back-lighted buttons, auto-dim, and much more. Visit www.veritysafe.com for more information. SM07S 5" System (Monitor part #MK05S) SM07S 7" System (Monitor part #MK07S) SMQ7S 7" Quad System (Monitor part #MQ07S) Proven "S" Series – Commodity Priced
Page 5
"S" Series Components CCD CAMERA SPECIFICATIONS Horizontal Resolution: 600 TV Lines Image Type: 1/3 Inch Color CCD Sharp® (or equivalent) Effective Pixel: 510 x 492 Night-vision -17 high output IR LEDs Aluminum Housing with Built-in Microphone Waterproof: IP69K Shockproof: 10G Viewing Angle: 170° Camera Part #C001S (Can replace a C001J camera) Mount Part #ADD21U with 3M™VHB™ tape 65' Cable Part #CB021 FM/FM Detailed, easy to read & use manual in English. Large wiring diagrams, detailed measurements, support material (also in downloadable .pdfs).
Page 6
Our "J" Series has earned its reputation for being the industry's premier system. Seven years on national fleets and still only a 0.02 percent issue rate including all the systems in the field. Specially engineered as a 2&3-camera system (available in quad view) to simplify the OEM production line and fleet facility installations. Cables are small enough to install in tight dash areas and head liners. The cabling is well marked/color coded and is designed for easy install, eliminating issues. The system was designed with the input of OEM and major fleet managers. The 5" and 7" LCD monitors have a clear, crisp view in our durable, rubberized-finish housing. The "J" Series is ideal for a fast-moving production line! Adjustable backup lines both vertically and horizontally to match your vehicle! All "J" Series components undergo periodic design reviews to ensure the latest in technologies. Although we are always improving the 5" and 7" "J" Series, they will always remain interchangeable. SM05J SMW7J – 193-degree camera SM07J SM05J 5" system SM07J 7" two camera system SMQ7J 7" four camera system "J" Series
Page 7
Camera Part #C001J COLOR CCD CAMERA Shockproof: 10G Viewing angle: 130° Waterproof: IP69K for extreme environment Resolution: 700TV Lines Night Vision - 20 high flood output IR LEDs "J" Series Components Mount Part #ADD22H: Slim Heavy-duty aluminum monitor mount. Cable Part #CB021: 65 ft. / 20m waterproof 4-pin camera cable (shorter sizes are available). Female connectors on both ends of the camera cable so the cable cannot be installed backwards. Shown here is 1 of our 8 time-test racks performing in-house QC tests on items we already 100% checked before leaving the factory. We also do waterproof testing and function tests. Why do we spend so much time on QC? Because when your truck is down, it costs you over $1,000 a day. Plus, the phone number on the manual rings to the owners' cell phones after hours. Camera Part #C001J
Page 8
For Rental Fleets or when the image should be displayed ONLY when the truck is in reverse, or the monitor needs to be on continuously. MONITOR SPECIFICATIONS (Monitor part #MK07B) 7" LED-backlit LCD panel for longer life and high resolution. • 1 Camera input (audio and video) with monitor activation trigger wire. • Remote and auto-dimming monitor. • The very high contrast level of 500:1/ Brightness level of 450 cd/m2 • A heavy-duty, removable sun shield. • Power supply rating: 12V~24 V DC, reverse polarity protection. • The system format is NTSC/PAL/AUTO for domestic and export use. • Easy to use the On-Screen menu • Back-up guidelines can be on/off and can be adjusted to match the truck. • Multi-languages inducing, Spanish and French. • The image can flip horizontally (mirrored/unmirrored) or vertically. • Operation temperatures: -20°~70°C /Storage temperature: -30°~80°C This is part of the "J" Series that has had a 0.022% issue rate over the past 10 years combined. Backed by our 24/7 tech support for fleets and OEMs The Buttonless monitor can be paired with most Verity Camera. Call For your best options 574-807-6002 NEW! MK07B – Buttonless monitor
Page 9
Waterproof IP69K Monitor This monitor can be described as "Utilitarian." Utilitarian: adjective - Designed to be useful or practical rather than attractive. This monitor may not have "Euro" styling, but it has the "guts" to go where most monitors will not last a day. The "F" Series is employed on fire truck pump panels around the world. It travels on watercraft to monitor engine rooms, and it allows for perfect maneuvering from a weather-struck helm. "F" Series - Waterproof Monitor SM05F 5" System is a 2-camera system. Includes sunshield (Monitor part #MK05F), C075F camera and cable. No Audio because of high waterproof rating on F-series SM07F 7" System 4-camera system with the built-in quad multiplexer. Supports 1 CH, 2 CH, 3 CH and quad views, includes sunshield, (Monitor part #MK07F), C075F camera and cable. Camera Part #C075F Color CCD Waterproof Camera Viewing angle: 120° Waterproof: IP69K for extreme environments Shockproof: 10G Night vision 12 IR LEDs Part #SM05F 5" Part #SM07F 7"
Page 10
SMM07 7" digital panel rearview mirror monitor. This monitor slides over most existing vehicles' original rearview mirror post clips. This monitor can also be a clip-on. (Monitor part #MMK07) 7" Car Clip-On or post mount mirror monitor TFT-LCD(16:9) New Higher Resolution: 800 (W) x 480 (H) RGB Video: 2-channel video input, V1/V1 with trigger 4-pin male aviation camera connectors Contrast: 300:1 Brightness: 300 cd/m2 Optional Camera for OEMs and Fleets Camera Part #C001S 65' Cable Part #CB021 FM/FM Post mount assembly (included) Sprinter Mount Available 7" Mirror Monitor 180º Horizontal View
Page 11
SM04 4.3" digital panel rearview mirror monitor. This monitor slides over 70%-80% of GM, Ford, and Toyota vehicles' original rear-view mirror post clips. Has clip-on option and windshield post mount. 4.3" digital panel rearview mirror monitor Brightness: 500 cd/m2 Contrast ratio: 400:1 Power Supply: DC 12V~24V Operating temperature: -20~70°C Storage temperature: -30~80°C Special anti-glaring treatment CCD Color Camera Waterproof: IP68 18 IR Night Vision Emitters Camera Angle: 170° Garmin Garmin DEZL 780 LMT-S 7" SMG7G & DEZL 580 LMT 5" SMG5G Lifetime maps Time management Turn by turn truck routing & warnings Free live Traffic and Weather Hands free calling, voice activated Truck and trailer service directory Distributed by Verity for the latest version! 4.3" Mirror Monitor
Page 12
New! REC02U (2020) SD Card MDVR 5-channel Mobile DVR supports Dual 128 GB SD Cards with RS232 & RS485 REC03U 5-channel MDVR + GPS tracks speed & location REC04U 5-channel MDVR + GPS + 4G WiFi Up to 1TB models available This is the latest upgrade to our REC02U 4-Channel DVR, which supports 2-128 gig SD cards. Our latest version has updated technology, RS232 & RS485, PTZ operations, metal connector tamper-resistant cover, optional LED control panel, better recording and compression, 2 AV outputs. All PTZ Capabilities via RS485 port and Pelco D protocol REC02U. REC03U, REC04U, are dual SD card hybrid HD MDVR with 4 channels of D1/960H/720P formats. Full video and audio recording/replay designed for commercial vehicles, maximum 4 channels of 960H, and 1 channel is IPC HD camera full-framed recording supported. The mobile MDVR adopts the latest DSP (Digital Signal Processing) for a fast dual-core processor running on the Linux embedded OS. It also integrates the most advanced H 264 video encoding/decoding in the IT industry. The Reveal® line features fail-safe protection and a great power management platform. Tamper-proof rear cover protects all connections Reveal MDVRs
Page 13
The system includes: DVR, remote, 2 keys, all cables, rear anti-vandalism cover to protect cable connections. Part #ADD02CP Optional Remote IR extender panel Video recordings are in computer friendly .avi format. Also includes an easy-to-use video player program/app with detailed instructions. GPS and GPS + 4G models use Google maps as mapping format. Player app allows for converting to MP4 files, search by date and time, print video logs, print event reports, and so much more!
Page 14
Verity® has solutions for tractor-trailer blind spots. Too often, an accident occurs when a Semi-Tractor is jack-knifing a trailer into a tight spot and the driver cannot see what is on the other side of the trailer. The mirrors on the tractor cannot provide views behind the trailer. This leaves a massive blind spot that prevents the driver from safely maneuvering the trailer into the parking space without a spotter for assistance. Reveal® is a three-camera system designed to eliminate blind spots behind and on both sides of the trailer. Semi-Trucks A fleet of trailers can be inter-changeable with just a few semi tractors. The trailers are upfitted with three cameras each, and the tractors each receive a monitor. The monitors connect to the cameras via one heavy-duty coil cable connector. The camera system can be paired with our MDVRs, simultaneously recording all cameras so if an accident should occur, your company has proof of what really happened. Verity's semi system is much more than simply pairing a coil cable to an existing camera system. The power management has been redesigned in the "J" series monitors to perform better. Even with a power drop as low as 6 volts DC, our monitor can still supply 13.5 volts to the cameras. The coil cables have been modified to meet SAE standards and our improved locking collar has an increased waterproof (IP) rating. ADD72 - 2-Channel monitor automatically switches to trailer camera when connected – no pushing buttons for flipping switches.
Page 15
Because all Verity monitors have camera mirror / un-mirror options, any of our cameras can be used as a forward-facing camera. C001S Resolution 600 TV lines Viewing Angle 170º Diagonal Night Vision YES - 17 IR Waterproof IP IP69K - IP68K w/ Mic Housing Aluminum C001J Resolution 700 TV lines Viewing Angle 130º Diagonal Night Vision YES - 20 IR Waterproof IP IP69K Housing Aluminum C003 In-bumper Resolution 600 TV lines Viewing Angle 150º Diagonal Night Vision YES - 8 IR Waterproof IP IP68K Housing Aluminum C075F Resolution 400 TV lines Viewing Angle 130º Diagonal Night Vision YES - 18 IR Waterproof IP IP69K Housing Aluminum C305 non-fisheye Wide Angle 180 Degrees Resolution 700 TV lines Viewing Angle 180º Horizontal Waterproof IP IP69K Housing Aluminum C300P FMVSS 111 Resolution 800 TV lines Viewing Angle 193º Horizontal Night Vision No 1.5 Lux Waterproof IP IP69K Housing w/ adjustment marks Rear Cameras
Page 16
C002S Shutter Resolution 700 TV lines Viewing Angle 120º Horizontal Night Vision YES - 12 IR Waterproof IP IP69K Housing Aluminum C115 Rear / Right / Left / Forward Resolution 800 TV lines Viewing Angle 120º Diagonal Night Vision 1 lux Waterproof IP IP68 Housing Aluminum C210C Dome Resolution 800 TV lines Viewing Angle 120º Diagonal Night Vision YES - 10 IR Waterproof IP IP66 - inside Housing Aluminum C400F Bar Camera Resolution 700 TV lines Viewing Angle 170º Diagonal Night Vision YES - 12 IR Waterproof IP IP68 Housing Aluminum CM114 Rear CM112 Left CM113 Right Resolution 700 TV lines Viewing Angle 170º Diagonal Night Vision 1 lux Waterproof IP IP68 Housing Aluminum All cameras shown are our common stock items. If you do not see what you need, call us. 574-807-6002 We most likely have your need in stock. New! Part #CB080 Samsara Patch Cable Most add-on tracking programs that connect to a rear vision system require the cameras to be powered during ignition hot. This cable ensures the camera is always on for 3rd-party recording. Specialty Cameras
Page 17
M/M Camera Extension Cables CB001 4-pin Male to 4-pin Male 1m / 3' CB005 4-pin Male to 4-pin Male 5m / 16' CB010 4-pin Male to 4-pin Male 10m / 33' CB015 4-pin Male to 4-pin Male 15m / 49' CB020 4-pin Male to 4-pin Male 20m / 65' M/F Camera Extension Cables CB011 4-pin Male to 4-pin Female 1m / 3' CB006 4-pin Male to 4-pin Female 5m / 16' CB012 4-pin Male to 4-pin Female 10m / 33' CB018 4-pin Male to 4-pin Female 15m / 49' CB021 4-pin Male to 4-pin Female 20m / 65' Trailer Camera Cable Kits CBK202 3-pc, 5-pin, 1-camera, 3m Coil, M/M CBK203 3-pc, 7-pin, 1-camera, 3m Coil, M/M CBC202 5-pin Coil cable only 5m / 16' CB007 13-pin Male to Female Monitor Extension Cable for Semis 5m / 16' Adapters CB117 1 4-pin M to 2 4-pin F Y-splitter 13" CB118 1 4-pin F to 2 4-pin M Y-splitter 10" CB119 4-pin Male to 4-pin Male 6" CB124 4-pin Female to 4-pin Female 12" 4-pin to 5-pin Adapter CB125 5-pin Male to 4-pin Female w/2" jump for all model years to control mirror/un-mirror image 12" 2-Channel Automatic Camera Switcher ADD72 1 4-pin Male to 2 4-pin Female 18" Monitor automatically switches to trailer camera when connected – no pushing buttons for flipping switches. Cables
Page 18
ADD22H: Heavy-duty, all-purpose slim-base monitor mount in black ADD21U: Standard fan mount with 3M® tape Our polished, cast aluminum camera covers are designed to protect our cameras from impact damage without restricting the camera's field of view. It is an ideal add-on to vehicles or trailers that would be backed into a loading dock. It is also useful on fire trucks to prevent damage to the camera from hoses that are being moved around. ADD100ZV: Aluminum Camera Cover Fits "S", "C" and "J" Series cameras ADD300Z: Aluminum Camera Cover Fits our C300P camera ADD25F: Heavy-duty monitor mount. Ideal for dash-mount applications Mounts Camera Covers ADD26F: Heavy-duty monitor mount. Ideal for roof-mount applications ADD27J: Windshield mount for S, C and, J series systems ADD28: Windshield mount for S, C and, J series systems
Page 19
ADD60S Our Backup Sensor kit is a useful add-on to any of the Verity Rear Vision Systems. This unit creates an overlay on the monitor screen that indicates the distance to objects behind the vehicle up to fifteen feet away. It also has a buzzer alarm that notifies the driver when an obstruction is detected. The alarm increases in frequency as the object gets closer. The heavy-duty sensors are self-calibrating and can be mounted in or under the rear bumper. ADD64S Forward Facing Sensor kit is another truck safety tool. No control box! Just hook up the sensor to the simple harness, supply power, and the sensors do the rest. The outward horizonal detection range ends 1' out from the truck to reduce false readings. When turned on, the sensors calibrate all parameters. Call about what options we have that will fit your needs! Sensor Systems
Page 20
Verity is known for innovations. If you have a need, chances are we have already done it. For last mile delivery trucks that make sharp backing turns, we have our wide-angle "W" systems. These systems work well on lift gates using a low-mount camera with no blind spots. Industrial applications: Until now, rear-facing forklift cameras were limited to a narrow 130° horizontal camera. Note: A 130° horizontal camera is advertised by competitors as a 170° camera, measured on the diagonal. SMI5 forklift system minimizes damage to warehouse products and structures. Verity has systems for most applications including waterproof monitors for outdoors. Specialty Systems Industrial Systems Verity C300 P Camera
Page 21
Emergency Replacement Parts Program or ERPP: Verity offers an ERPP kit to our OEMs and large Fleets to address install mishaps that might happen. In this program, we supply OEMs with emergency/replacement parts to prevent installation line stoppage and/or overnight shipping charges. The items are supplied at no initial charge; we just ask that a replacement be purchased when an item from the ERPP kit is used. An example ERPP kit will include: Part Number Description Usage 2- CB021 F>F 20m/65' Camera Cable For S & J series systems, will work with the REC02U monitor with built in DVR 2-CB010 Stand. Camera Cable For side cameras on REC02U 2-CB119 M>M "J" to "C" Conversion Cable 6" Gender bender cables, fixes any problems in ordering that may occur 2-CB124 F>F "J" to "C" Conversion Cable 6" Gender bender cables, fixes any problems in ordering that may occur 1-CB400J J Series Monitor Harness "J" Series Monitor to Camera Cable Harness 1-REC02U Harness REC02U Series Monitor Harness Built-in DVR Series Monitor to Camera Cable Harness 1-CB006 F>F 5m Camera Cable For sensor systems ADD25F Heavy Duty Easy-Adjust, Monitor Mount, black Black, 6", heavy duty, easily adjustable, monitor mount ADD100ZV Alum. Camera Cover Most forgotten item on POs Camera screws For dropped screw during camera installs The ERPP kit will also include replacement instructional manuals as well as laminated line drawings tailored/branded to your install teams. This allows a team member that is not familiar with your install to follow simple, easy to use instructions. It also supplies part numbers to the parts so when something gets broken, your installers are already provided a part number for that part. 24/7 tech support from an R&D member. Emergency Replacement Parts Program
Page 22
It's not just about a camera system; it's about safety for your drivers, your customers, and your company. Verity Rear Vision Systems – 100%, 100% of the time! VERITY True Quality True Dependability True Customer Service